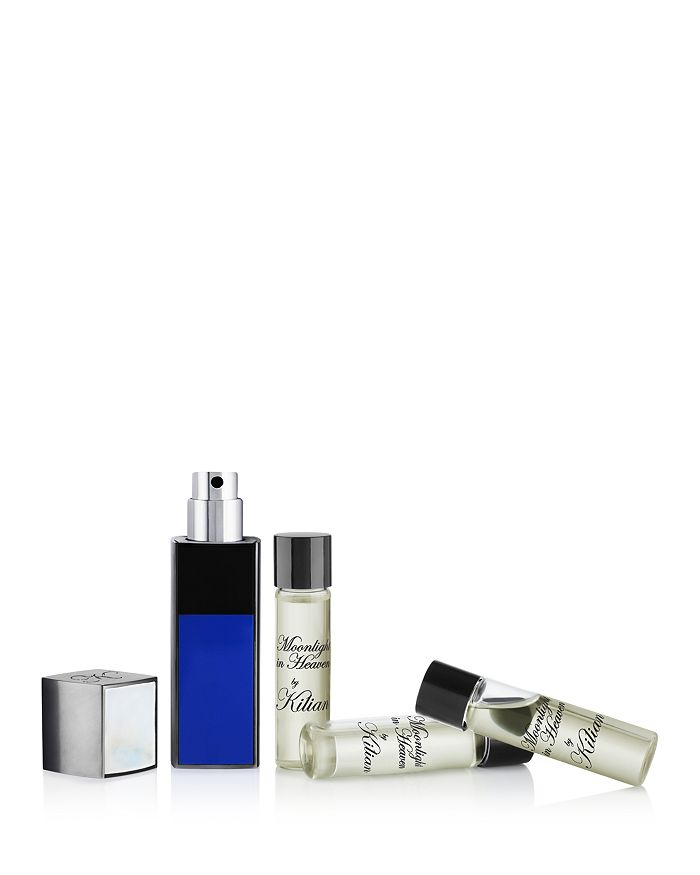 Kilian
Moonlight in Heaven Eau de Parfum Travel Spray Set
product details
KEY NOTES:
Mango, coconut milk, rice

FRAGRANCE FAMILY:
Fresh citrus

SET INCLUDES:
- Refillable empty travel spray case, 1 oz.
- Four refills, 0.25 oz. each

ABOUT THE FRAGRANCE:
A dazzling beam of pearlized light dances on the oceans belly, witnessed by two lovers who watch from a balcony draped in floating white opaque gauze that seems alive, responding to a warm wind that blows. The lovers, high above the world to almost touch the stars, with full hearts and bodies light as air. Omnipresent, Moonlight in Heaven sparkles with a citrus-forward opening, driven by a duo of lemon and grapefruit, spiced with pink pepper berry. Coconut milk and rice--white as the moon's face--rounds out creamy mango and powdery jasmine sambac, while a tonka bean dry down envelops delicate vetiver.

Moonlight in Heaven Eau de Parfum is a scent for lovers who want to explore their secret desires. The perfect fragrance for a sensual escape. "A sensual getaway in a secret paradise."

Perfumer: Calice Becker

Scents that transport are portable for travel with the 1 oz. refillable Travel Spray vase. A Klein-blue glass spray flacon embodies the Kilian philosophy of perfume as art. True luxury should last a lifetime--as such, all Kilian fragrance flacons are designed to be refilled.
Made in France
Web ID: 2752695
This item is part of Kilian Moonlight in Heaven Eau de Parfum
View All

(3)