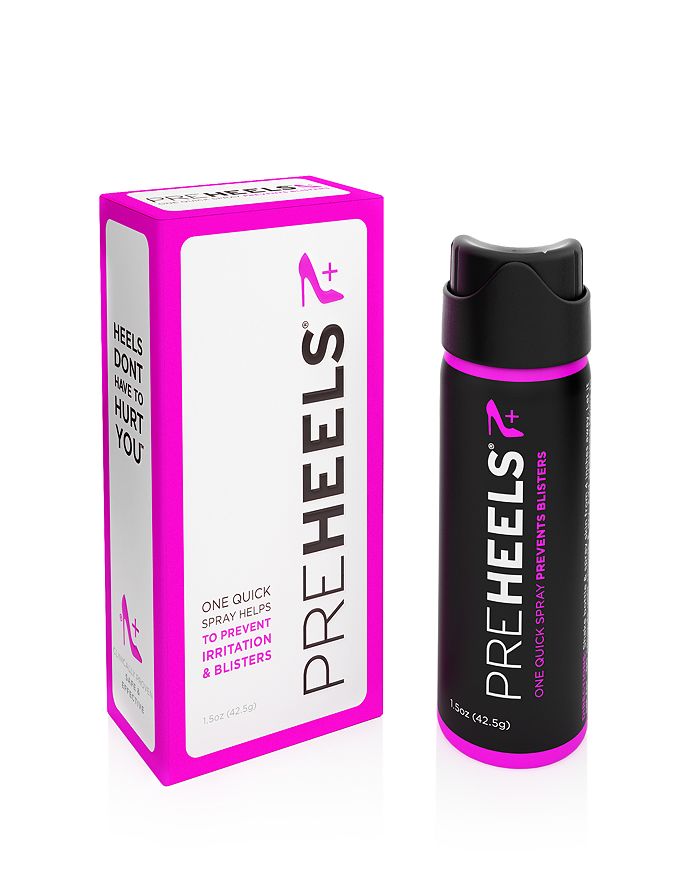 PreHeels
Blister Prevention Spray 1.5 oz.
product details
PreHeels is an aerosolized spray that forms a dry, clear, durable barrier on the skin to block shoe-friction which is the root cause of almost all blisters. The formula was perfected through three years of scientific research and has been demonstrated to be safe, effective and hypoallergenic in multiple clinical studies.

Unlike bandages and balms, PreHeels goes on clear to work with different shoe styles and all skin tones, it won't rub off on your footwear, and it creates a strong, flexible barrier that conforms perfectly to the unique shape of each foot for optimal coverage. A typical application protects for approximately 4–8 hours and its convenient size allows it to be reapplied as needed on the go.

PreHeels is easy to use:
1. Shake the bottle.
2. Spray from 3–4 inches away to achieve a thick, even coating.
3. Allow to dry completely.
4. Add a second layer for extra protection on hot spots.
5. Put on your shoes and enjoy blister-free feet.
1.5 oz.
This product is part of Glowhaus, a makeup and skin care boutique featuring all things dewy, sparkly and bright.
Web ID: 2635197
This item is part of PreHeels Blister Prevention Spray
View All

(2)