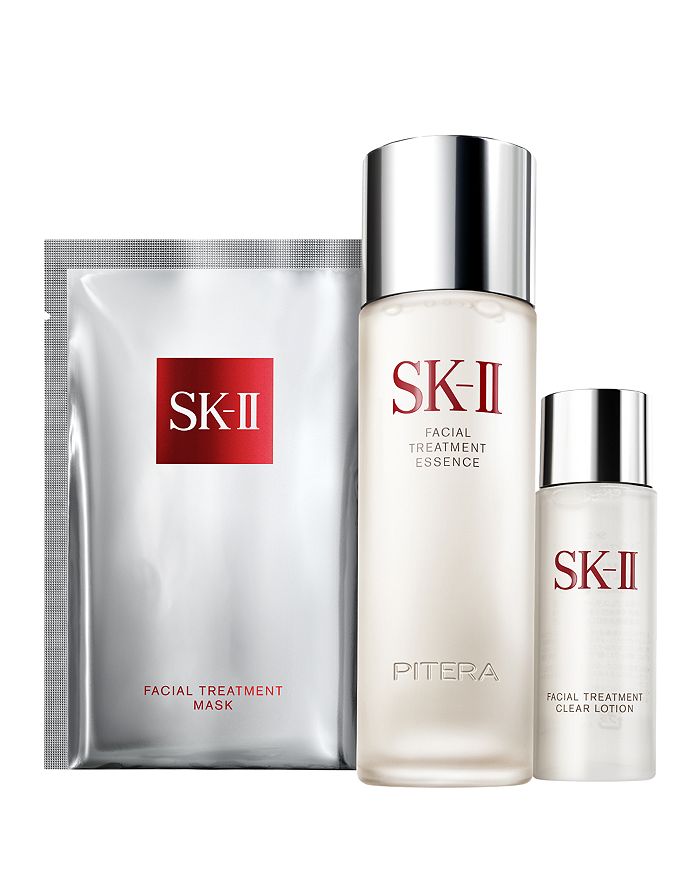 SK-II
First Experience Kit
product details
WHAT IT IS:
SK-II's signature set featuring the iconic SK-II essence and two PITERA™ essentials. Discover crystal clear skin with this signature three-piece set containing our PITERA™ essentials. Experience our iconic Facial Treatment Essence with over 90% PITERA™ in a travel-friendly size, along with a complimentary toner and cult-favorite sheet mask.

SET INCLUDES:
- Facial Treatment Essence, 2.5 oz.
- Facial Treatment Clear Lotion, 1 oz.
- 1 Facial Treatment Mask

WHAT IT DOES:
- Facial Treatment Essence: Essentially unchanged for more than 38 years, this powerful essence is called "miracle water" in Asia and gives women around the world transformation to crystal clear skin.
- Facial Treatment Clear Lotion: Best-selling face toner that helps remove stubborn impurities from your skin and prepare it for the rest of your regimen.
- Facial Treatment Mask: Packed with an exceptional concentration of PITERA™, this face mask takes your skin to the next level of crystal clear.

HOW TO USE IT:
- After cleansing, clarify and prep skin with Facial Treatment Clear Lotion.
- Hydrate intensely with Facial Treatment Mask by placing over face for 10-15 minutes. Remove, then massage remaining essence into skin.
- Transform skin to crystal clear with Facial Treatment Essence by pouring 2-3 shakes (approx. the size of a quarter) into hand. Press palms together to wet hands and smooth and pat over face.