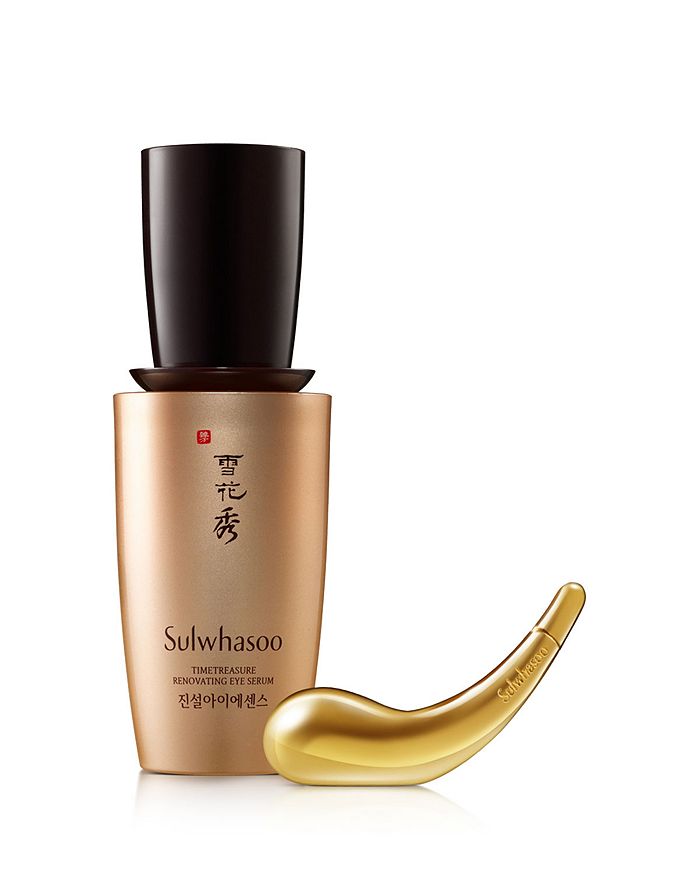 Sulwhasoo
Timetreasure Renovating Eye Serum 0.7 oz.
product details
The harmony of the silky rich texture with the Golden EyeCare Massager presents a new standard for anti-aging around the eyes. All-around care for various skin troubles around the eyes. DAA, the anti-aging efficacy found in Red Pine, helps give the skin around the eyes a firmer look, while the saponin components of Red Ginseng and White Ginseng provide care for wrinkles and dullness around the eyes.

The Golden Eye Care Massager was meticulously designed for your eyes. Every part of the 24K gold-plated Golden Eye Care Massager is designed wish a special purpose in mind, helping to deliver the rich efficacies of the Timetreasure Renovating Eye Serum to the skin quickly and effectively.

The silky smooth texture of the essence helps moisturize the skin around the eyes for a healthy glow, adding shine to your eye makeup.

To use: Apply day and night after using Timetreasure Renovating Serum EX. Put a moderate amount onto your fourth finger and gently spread evenly around your eyes. Use the Golden Eye Care Massager to gently massage around your eyes.