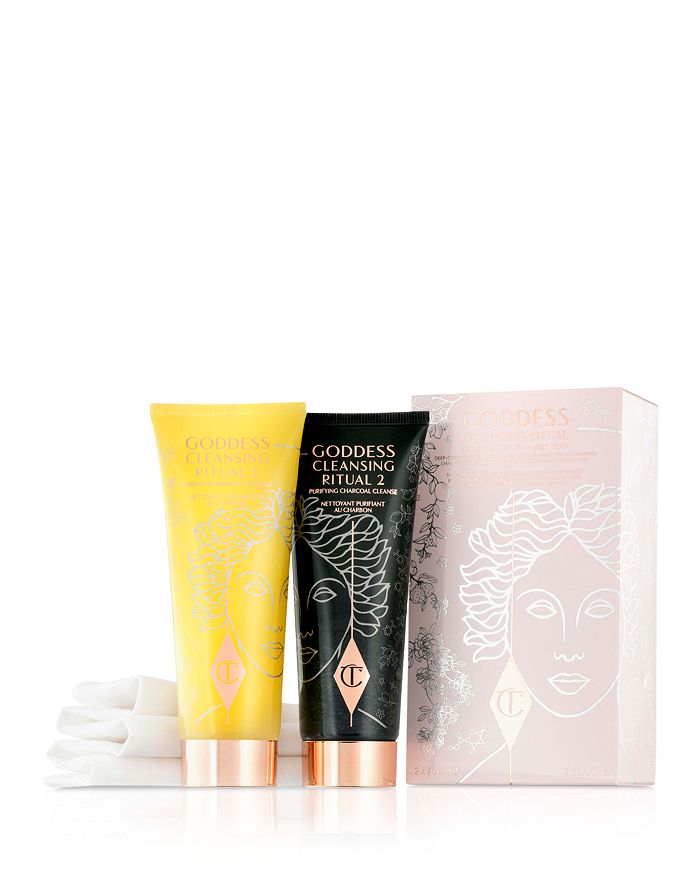 product details
WHAT IT IS:
A two-step cleansing ritual with a makeup remover followed by a purifying cleanser.

SET INCLUDES:
- Goddess Cleansing Ritual 1 Citrus Oil Radiance Cleanse, 2.5 oz.
- Goddess Cleansing Ritual 2 Purifying Charcoal Cleanse, 2.5 oz.

WHAT IT DOES:
The Dual Goddess Cleanser is a two step cleansing ritual that remove impurities and rejuvenates the skin. The Citrus Oil cleanser is a Radiance-Boosting Citrus oil that removes impurities whilst improving the appearance of tone, clarity and texture. The Bamboo Charcoal Skin purifier draws out impurities through the natural power of absorption.

KEY INGREDIENTS:
- Activated Himalayan Charcoal draws out dirt, oil and toxins.
- Nordic Peat Extract helps balance the oils on the skin.
- Vitamin C and Vitamin B3 help brighten the complexion.
- Bacuri Butter and Inca Inchi Oil help smooth moisturize and nourish the skin barrier.
- Kalahari Oil balances and brightens complexion.

FREE OF...
- Parabens
- Sulfates
- Phthalates

HOW TO USE IT:
- Massage Citrus Oil Cleanser onto the face and around the eye area, immerse muslin cloth in warm water, and apply to the face to melt off your makeup. For a magic steam-clean, press warm muslin cloth onto the face for 20 seconds to open your pores.
- Massage Charcoal Cleanser into wet face until it turns white, avoiding eye area. Wet muslin cloth in warm water and wash off.