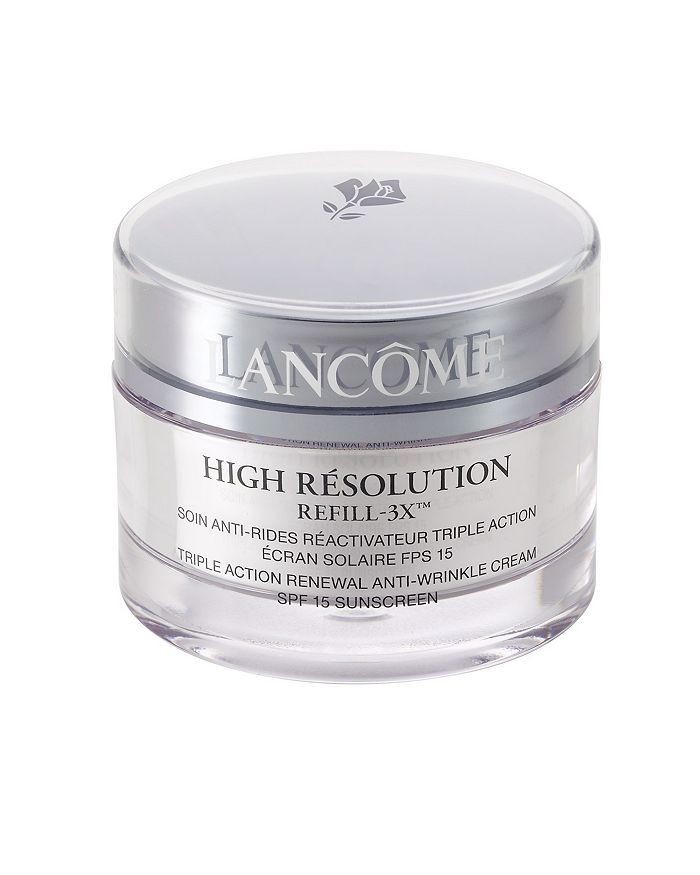 Lancôme
High Résolution Refill-3X™ Face SPF 15 2.5 oz.
product details
WHAT IT IS:
For the first time from Lancôme, a Refill-3X complex that helps boost the synthesis of the three natural skin fillers: collagen, hyaluronic acid and elastin.

WHAT IT DOES:
Skin truth: Dermatologists use injections of collagen and hyaluronic acid to fight wrinkles, yet are unable to replace elastin. Refill-3X complex helps boost the synthesis of collagen, hyaluronic acid and elastin.** This staple formula, featuring the Refill-3X complex, helps reduce the number, depth and size of wrinkles for visibly renewed smoothness. Immediately, skin feels significantly softer and smoother.

• Non-comedogenic.
• Dermatologist-tested for safety.
• Refill wrinkles in just 1 hour.***
• Note: Like any anti-wrinkle cream, this is not equivalent of a permanent wrinkle filler.

CLINICAL RESULTS:
Powerful anti-wrinkle results:****
• Immediately, more than 81% of women see significantly softer, smoother skin.
• In 4 weeks, wrinkles appear significantly reduced, as though refilled from within. Skin is saturated with moisture +94% and looks youthfully plumped.

* Not equivalent to medical procedures.
** In-vitro testing.
*** Improvement in number, length and overall surface of wrinkles. Based on in-vitro testing on Di-Peptide and Alfalfa Extract. Wrinkle measurements based on imprints one hour after product application.
**** Percentage based on a 4-week consumer study.
This item is part of Lancôme High Résolution Refill-3X™ Face SPF 15
View All

(2)