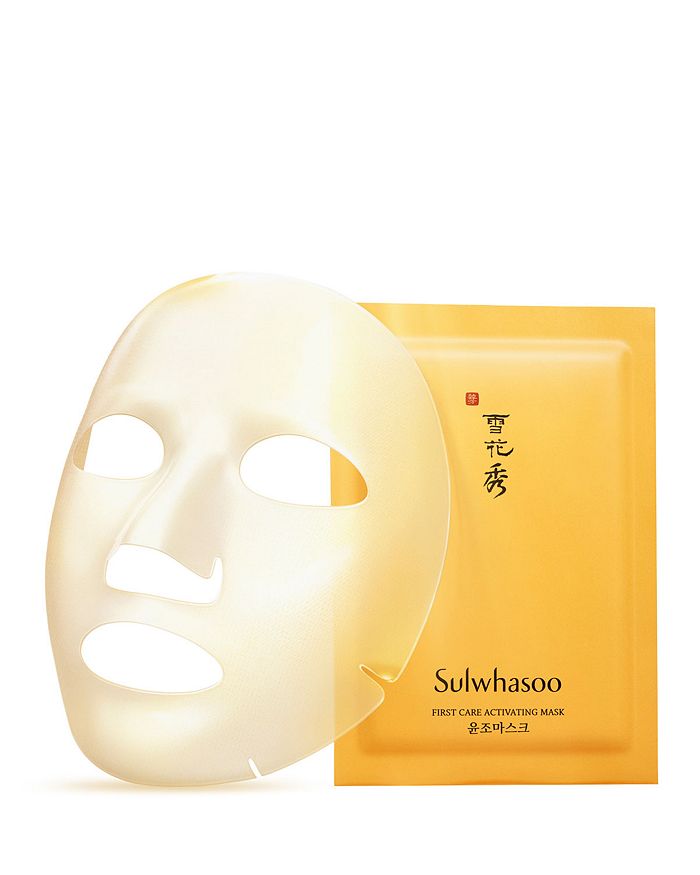 Sulwhasoo
First Care Activating Masks, Set of 5
product details
A radiance-boosting sheet mask formulated with Sulwhasoo's iconic First Care Activating Serum EX. Korea's No. 1 serum for the past 20 years is now offered in a sheet mask that delivers optimum skin texture and instant moisturization.

Whether used alone or paired with First Care Activating Serum EX for exceptional synergy, witness ultimate radiance with Sulwhasoo's JAUM Balancing Complex™, the brand's proprietary ingredient complex created with five herbs carefully selected from over 3,000 herbal ingredients. The exclusive complex helps restore skin's balance of vitality, resilience, clarity, regeneration and nourishment, improving skin's natural radiance and boosting the efficacies the entire skincare regimen that follows.

The unique micro net radiance sheet effortlessly adheres to the skin, aiding the full and effective absorption of the formula. The gentle, calming herbal scent of the mask relaxes the mind and body as you pamper yourself and your skin to the extraordinary power of JAUM Balancing Complex™.

To use: Once or twice a week, use as the first step after cleansing. Apply the mask onto your face and leave it on for 10-20 minutes. Remove the mask and gently pat the excess serum onto the skin for full absorption. Proceed with your regular skin care regimen.
Includes 5 sheet masks
Web ID: 2623450